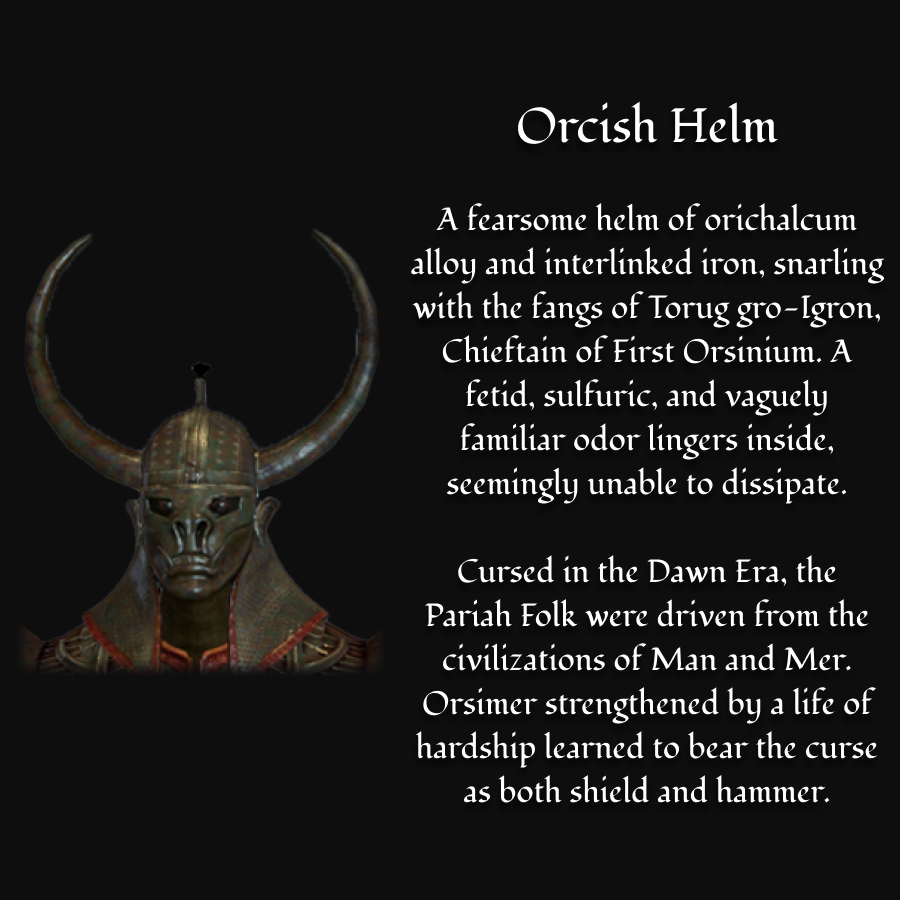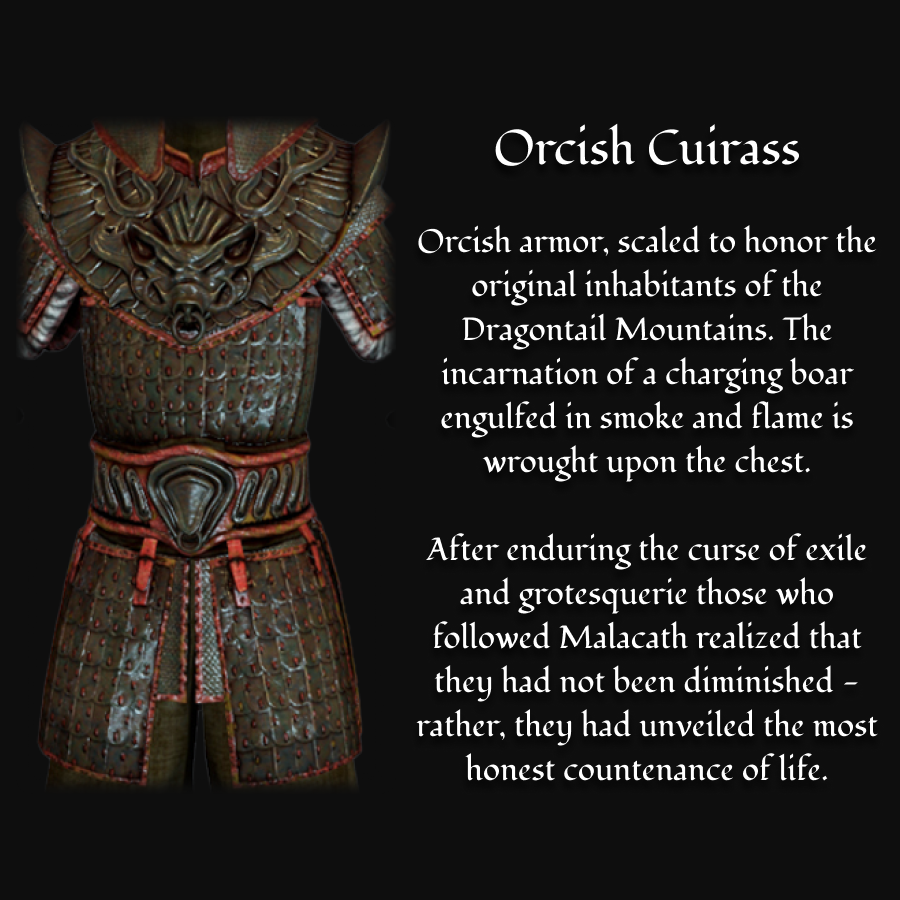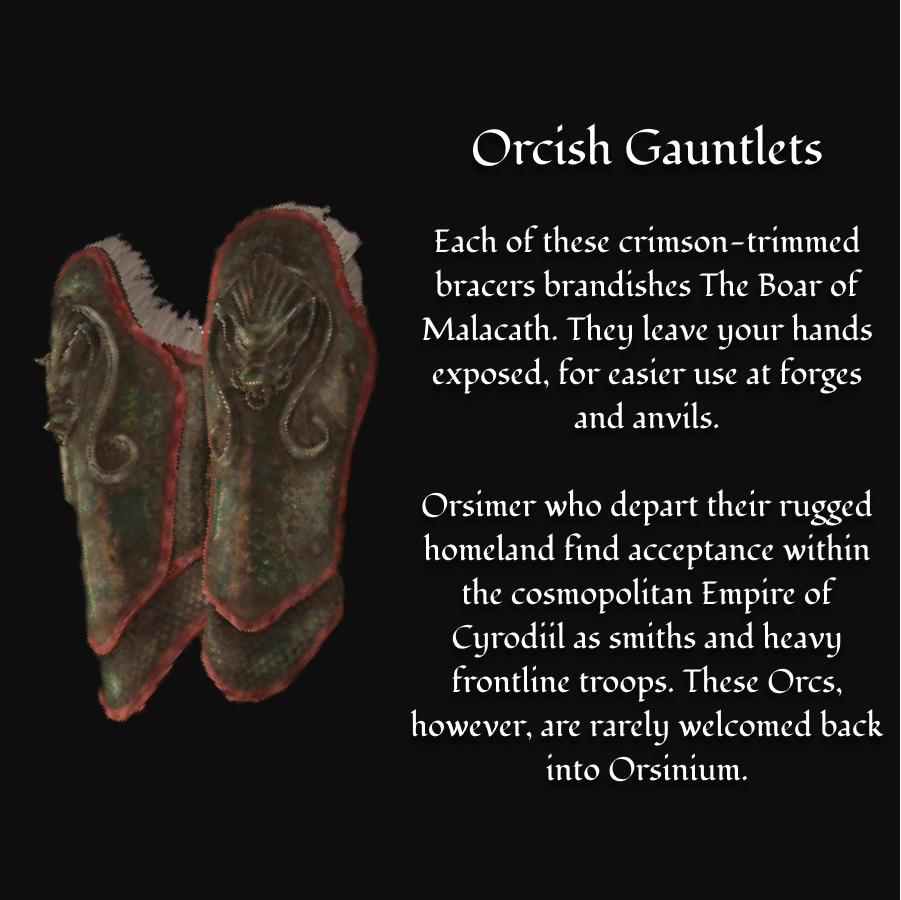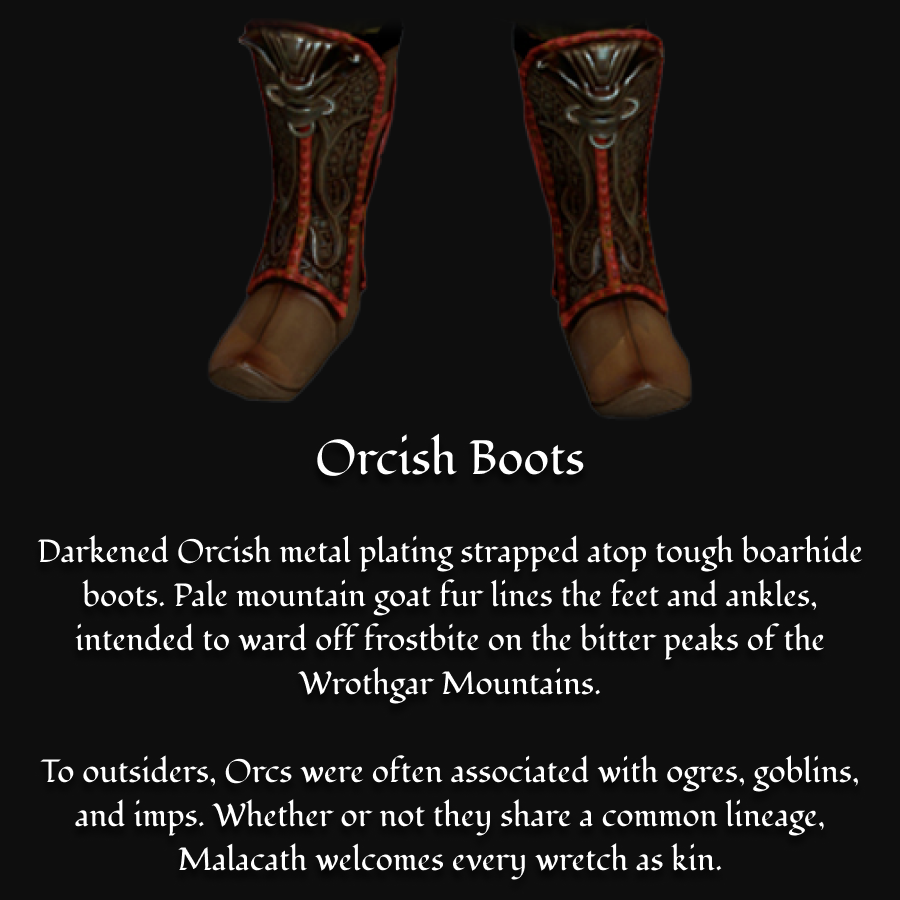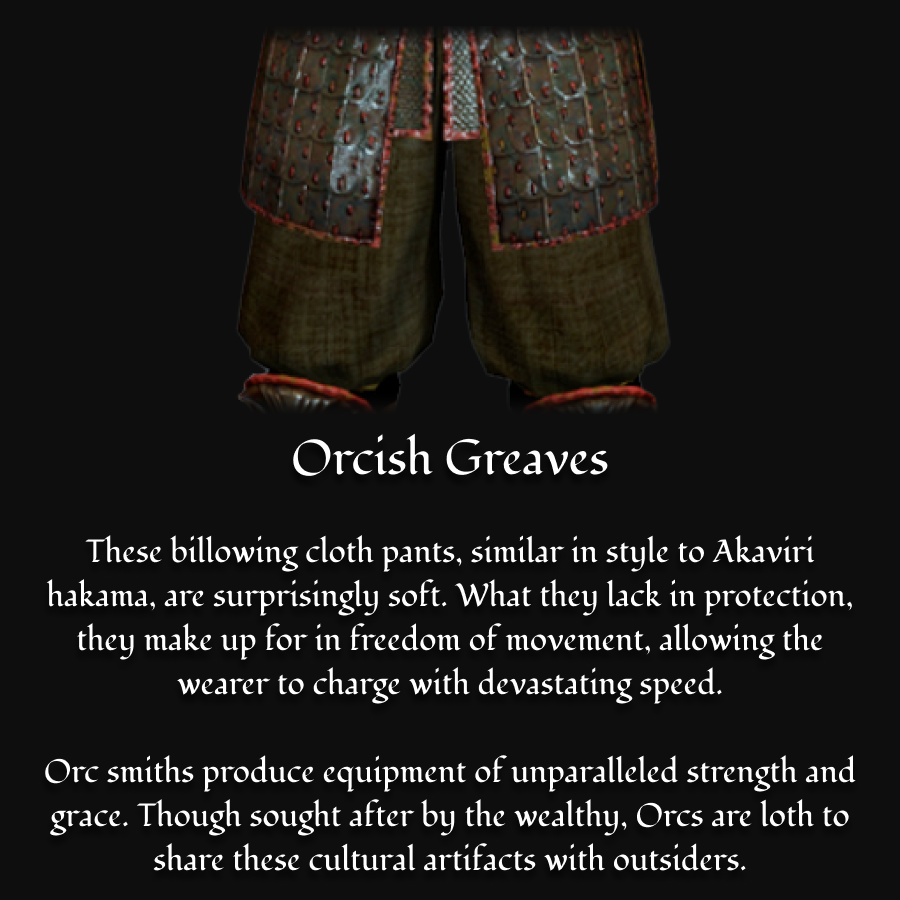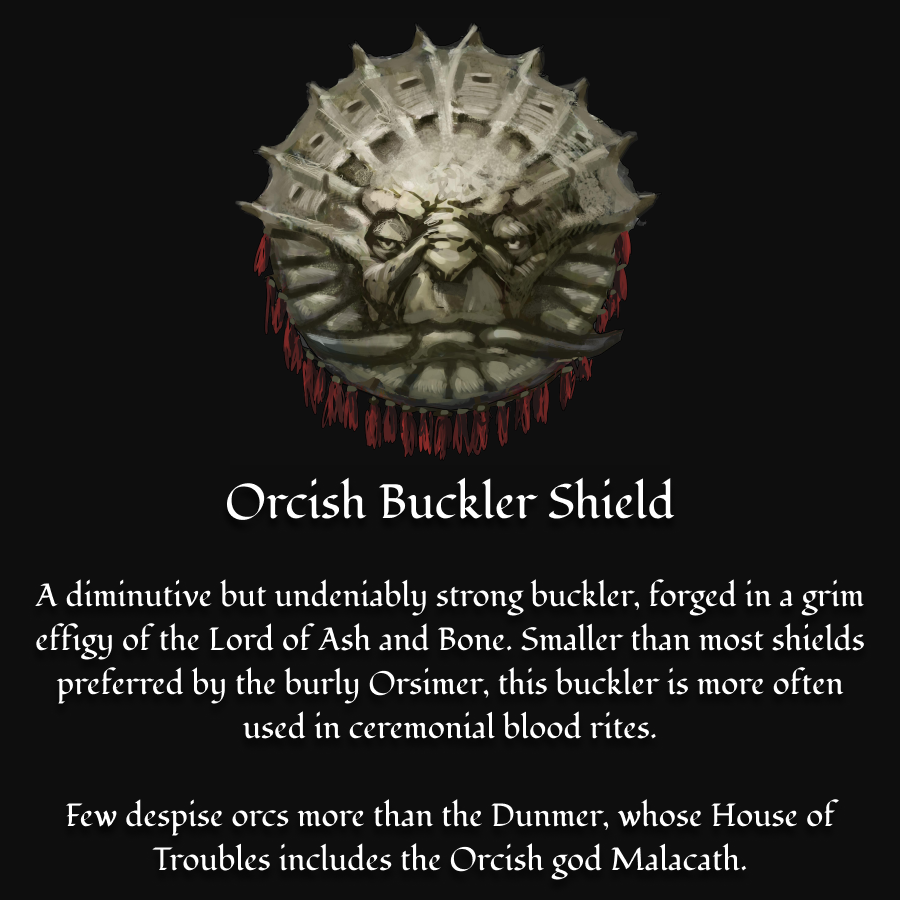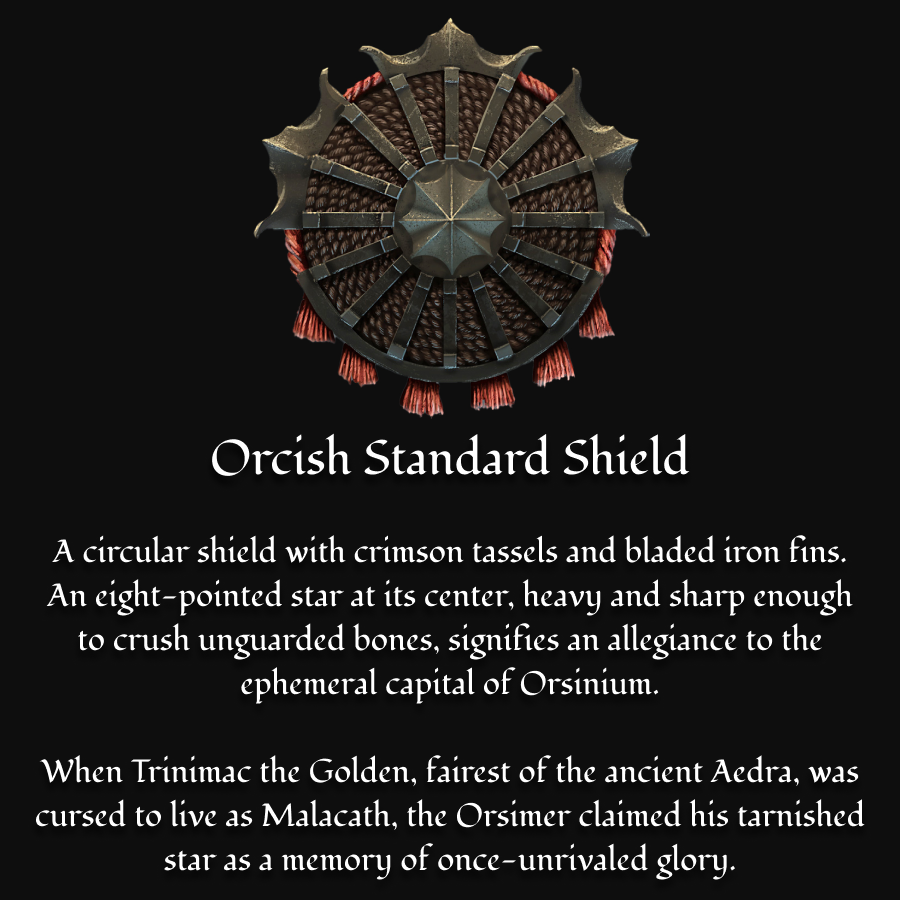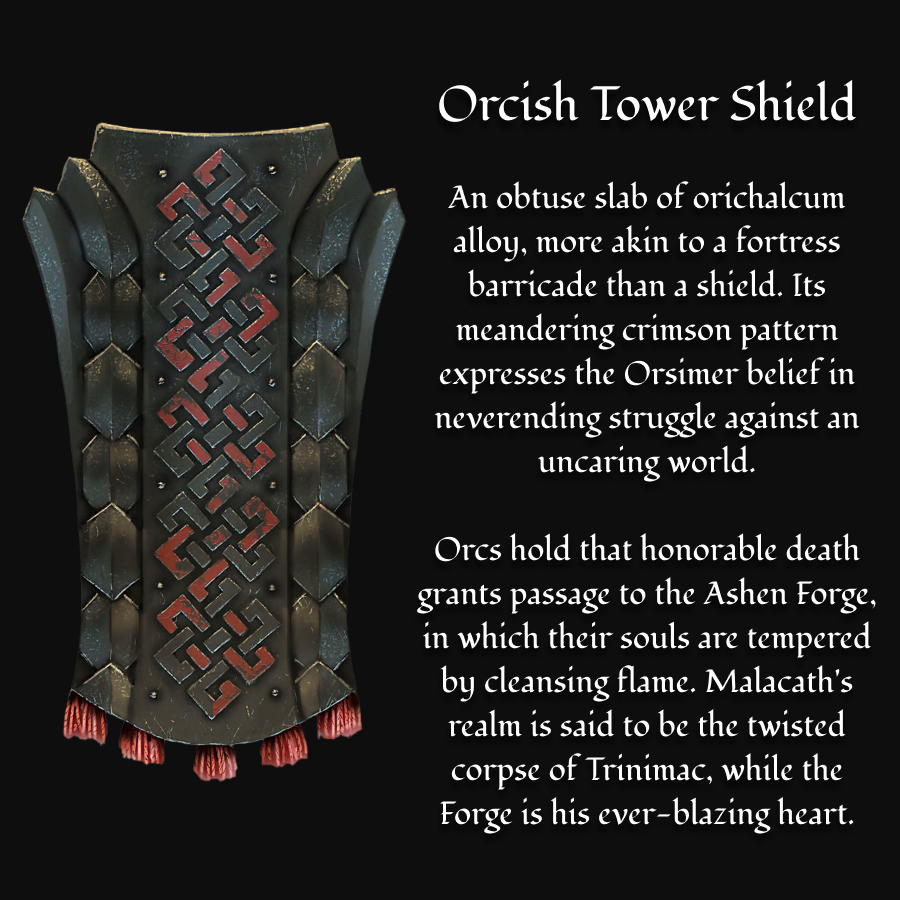 Helm - Medium Armor
Not Enchanted
A fearsome helm of orichalcum alloy and interlinked iron, snarling with the fangs of Torug gro-Igron, Chieftain of First Orsinium. A fetid, sulfuric, and vaguely familiar odor lingers inside, seemingly unable to dissipate.

Cursed in the Dawn Era, the Pariah Folk were driven from the civilizations of Man and Mer. Orsimer strengthened by a life of hardship learned to bear the curse as both shield and hammer.
Cuirass - Medium Armor
Not Enchanted
Orcish armor, scaled to honor the original inhabitants of the Dragontail Mountains. The incarnation of a charging boar engulfed in smoke and flame is wrought upon the chest.

After enduring the curse of exile and grotesquerie those who followed Malacath realized that they had not been diminished - rather, they had unveiled the most honest countenance of life.
Gauntlets - Medium Armor
Not Enchanted
Each of these crimson-trimmed bracers brandishes The Boar of Malacath. They leave your hands exposed, for easier use at forges and anvils.

Orsimer who depart their rugged homeland find acceptance within the cosmopolitan Empire of Cyrodiil as smiths and heavy frontline troops. These Orcs, however, are rarely welcomed back into Orsinium.
Boots - Medium Armor
Not Enchanted
Darkened Orcish metal plating strapped atop tough boarhide boots. Pale mountain goat fur lines the feet and ankles, intended to ward off frostbite on the bitter peaks of the Wrothgar Mountains.

To outsiders, Orcs were often associated with ogres, goblins, and imps. Whether or not they share a common lineage, Malacath welcomes every wretch as kin.
Pauldrons - Medium Armor
Not Enchanted
These gradually sloping fur-lined pauldrons guard your upper arms, completing the oxlike silhouette of the armor.

Orc leaders are anointed with blood upon slaying the sitting Chieftain of their tribe, thus ensuring that only the strongest ever rules. Despite this brutal coronation practice, most Orsimer cooperate effectively to protect their stronghold.
Greaves - Medium Armor
Not Enchanted
These billowing cloth pants, similar in style to Akaviri hakama, are surprisingly soft. What they lack in protection, they make up for in freedom of movement, allowing the wearer to charge with devastating speed.

Orc smiths produce equipment of unparalleled strength and grace. Though sought after by the wealthy, Orcs are loth to share these cultural artifacts with outsiders.
Buckler Shield - Medium Armor
Not Enchanted
A diminutive but undeniably strong buckler, forged in a grim effigy of the Lord of Ash and Bone. Smaller than most shields preferred by the burly Orsimer, this buckler is more often used in ceremonial blood rites.

Few despise orcs more than the Dunmer, whose House of Troubles includes the Orcish god Malacath.
Standard Shield - Medium Armor
Not Enchanted
A circular shield with crimson tassels and bladed iron fins. An eight-pointed star at its center, heavy and sharp enough to crush unguarded bones, signifies an allegiance to the ephemeral capital of Orsinium.

When Trinimac the Golden, fairest of the ancient Aedra, was cursed to live as Malacath, the Orsimer claimed his tarnished star as a memory of once-unrivaled glory.
Tower Shield - Medium Armor
Not Enchanted
An obtuse slab of orichalcum alloy, more akin to a fortress barricade than a shield. Its meandering crimson pattern expresses the Orsimer belief in neverending struggle against an uncaring world.

Orcs hold that honorable death grants passage to the Ashen Forge, in which their souls are tempered by cleansing flame. Malacath's realm is said to be the twisted corpse of Trinimac, while the Forge is his ever-blazing heart.