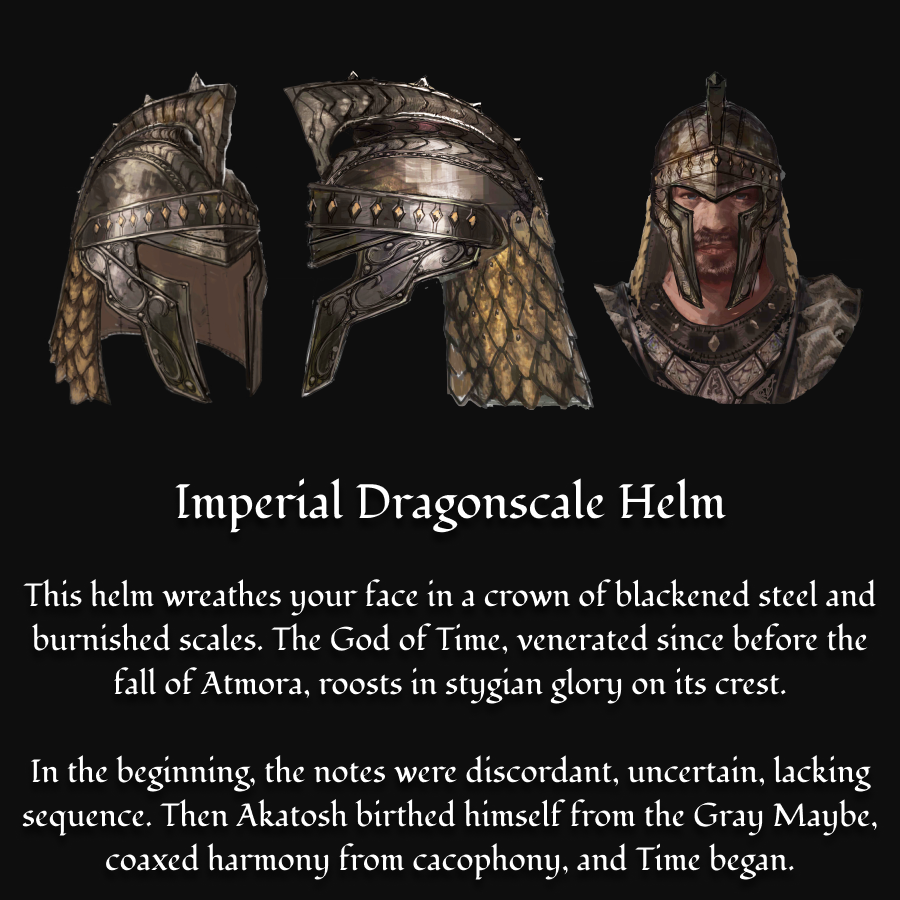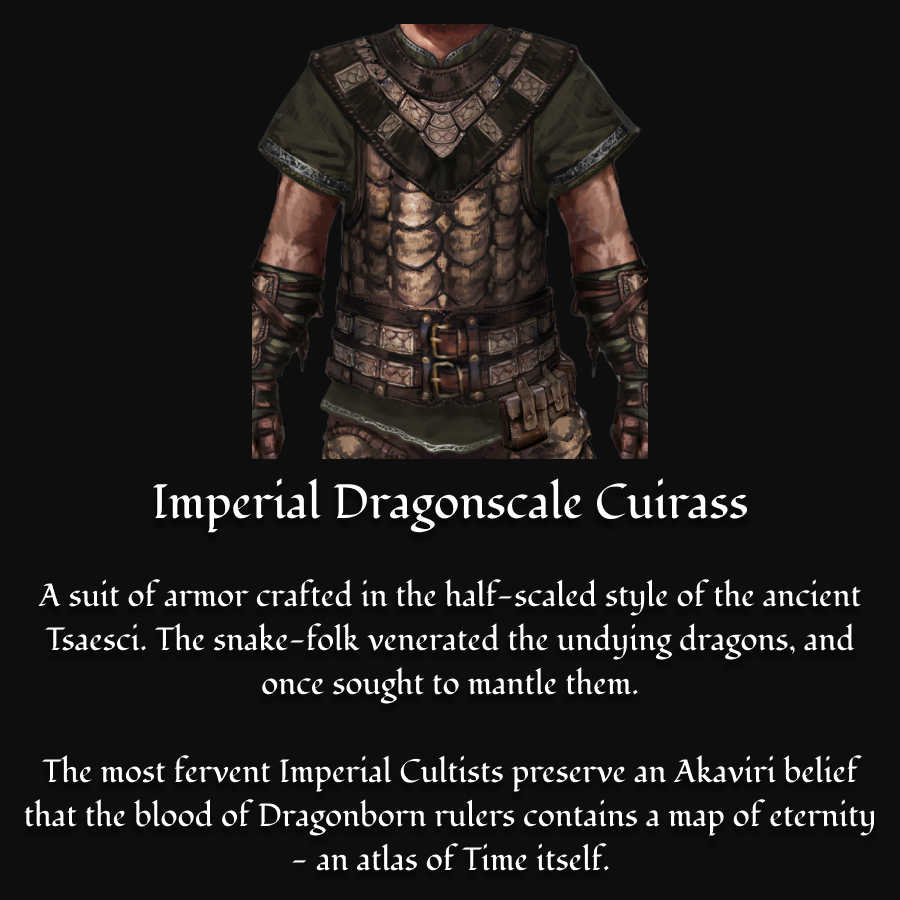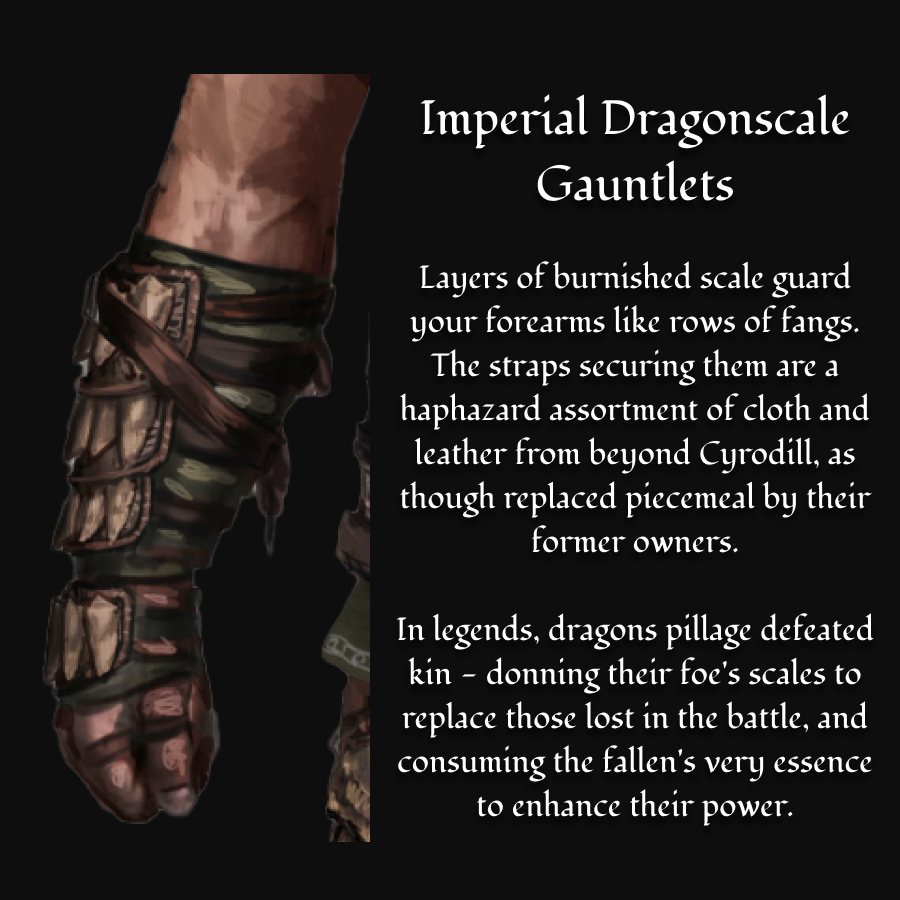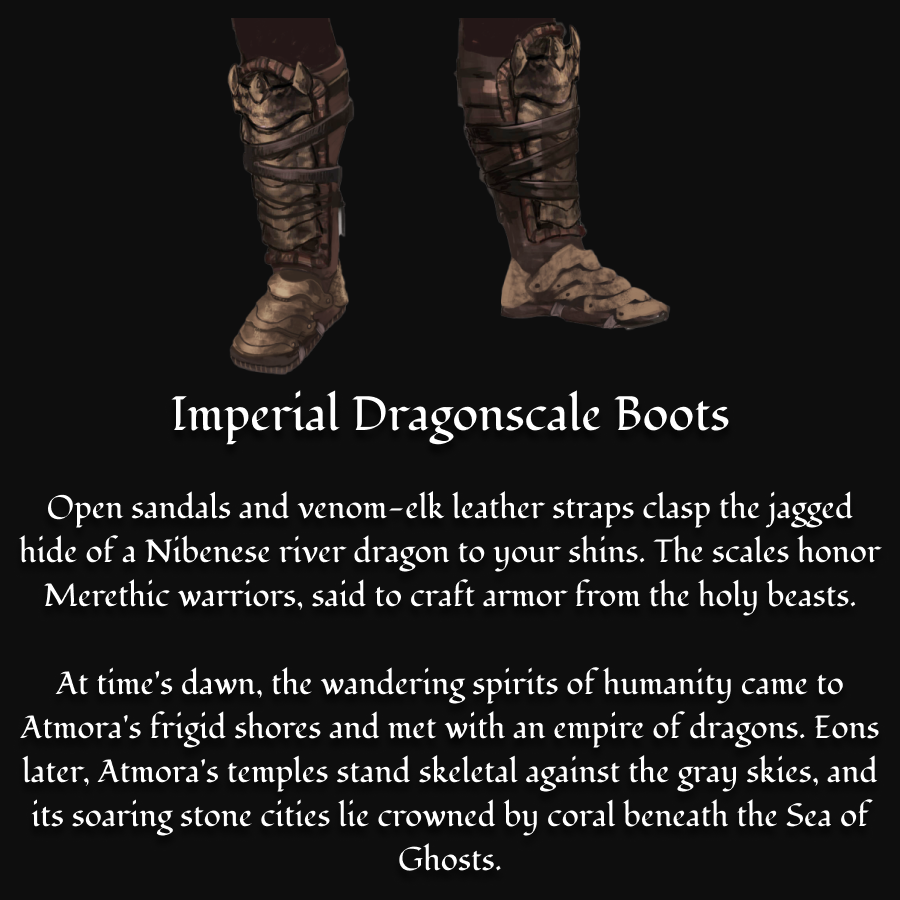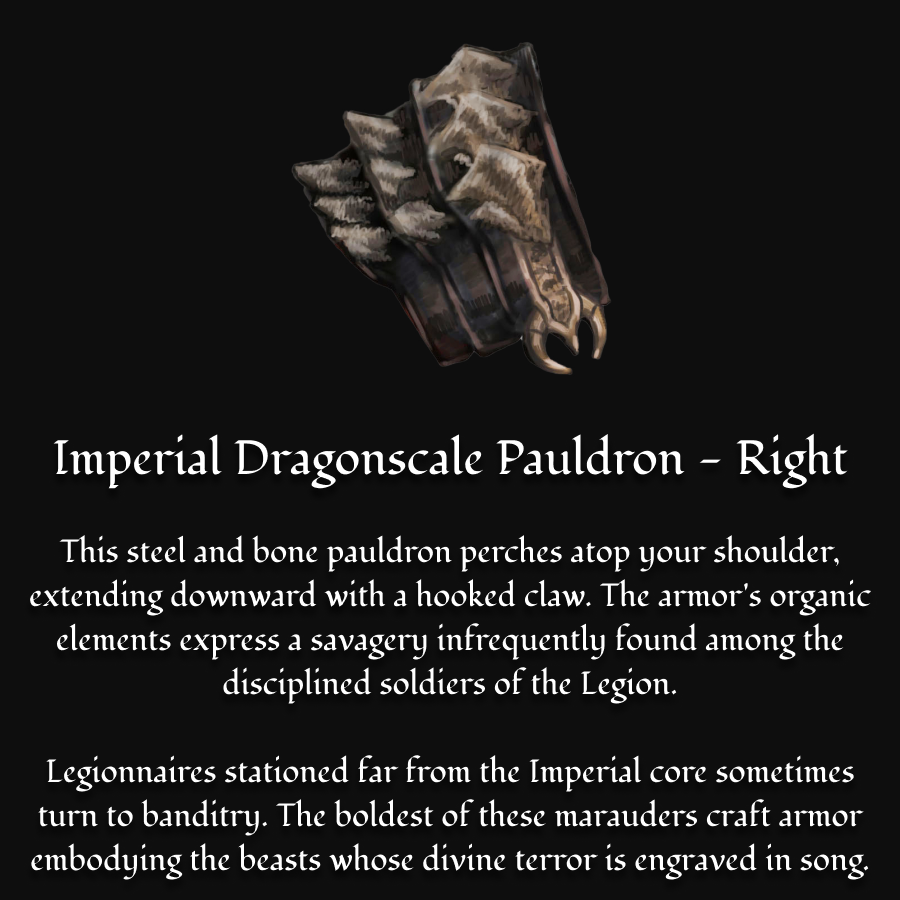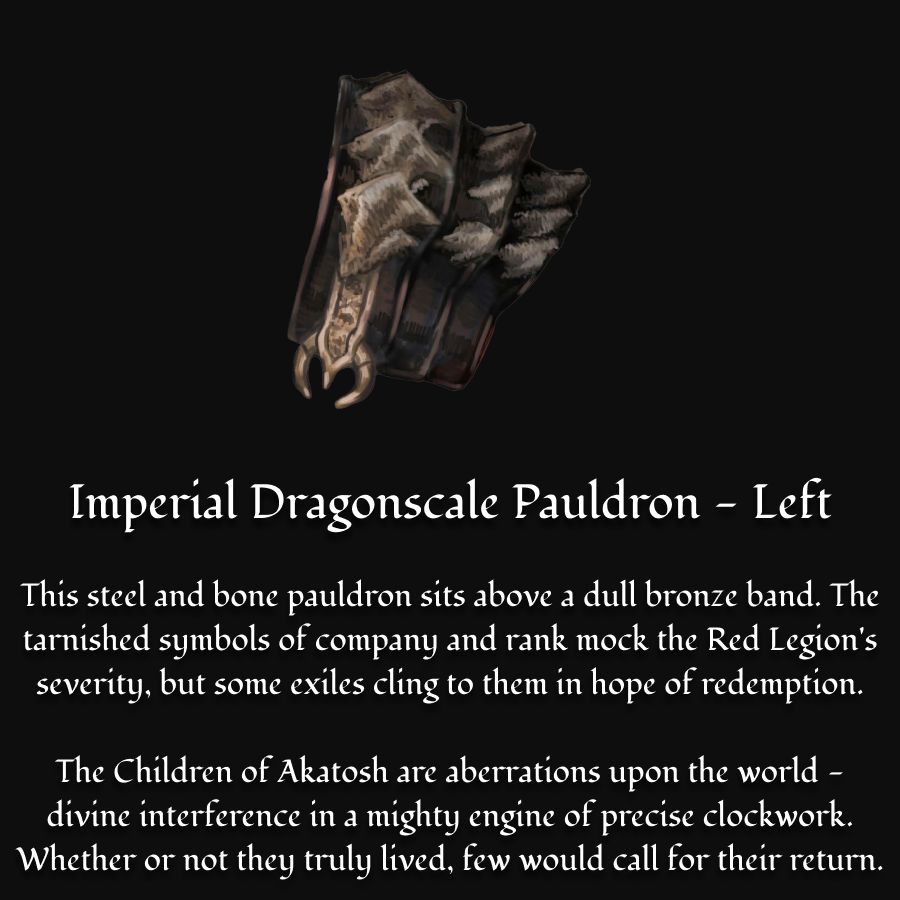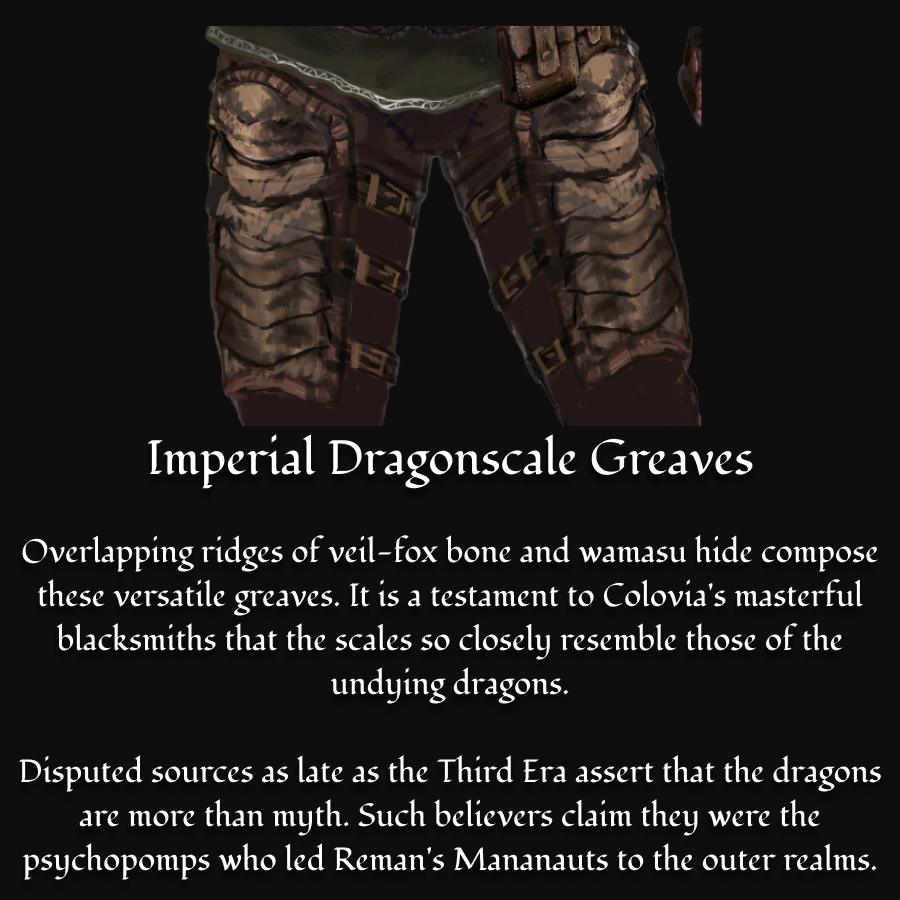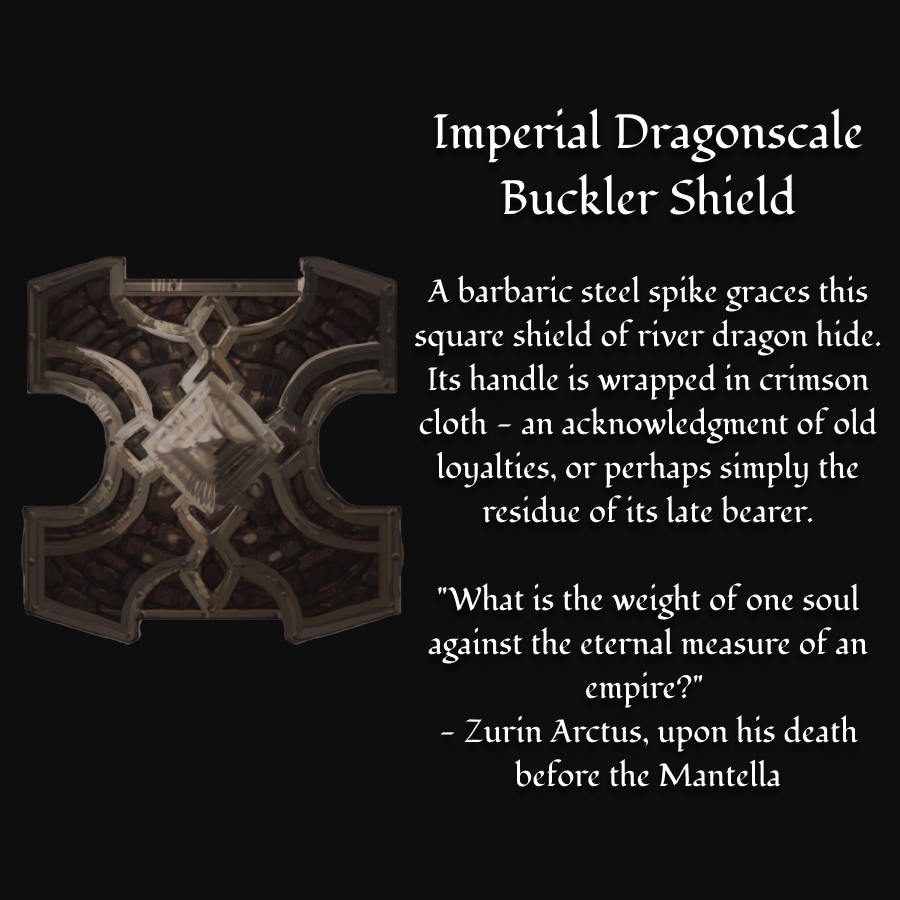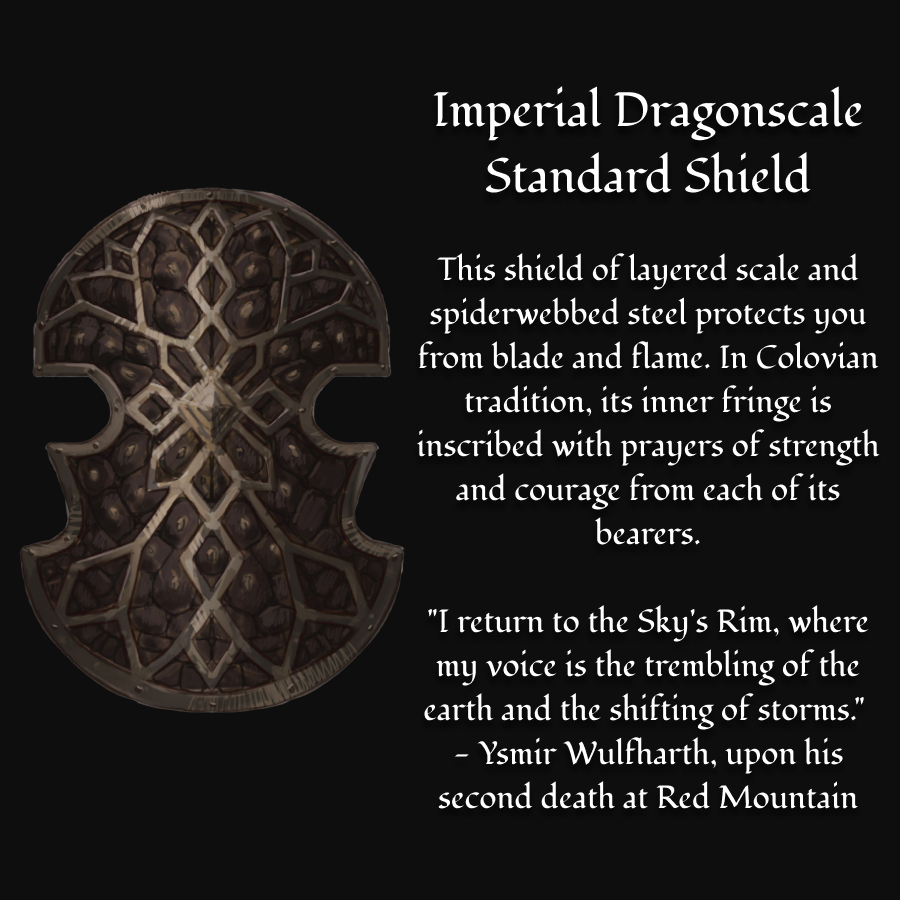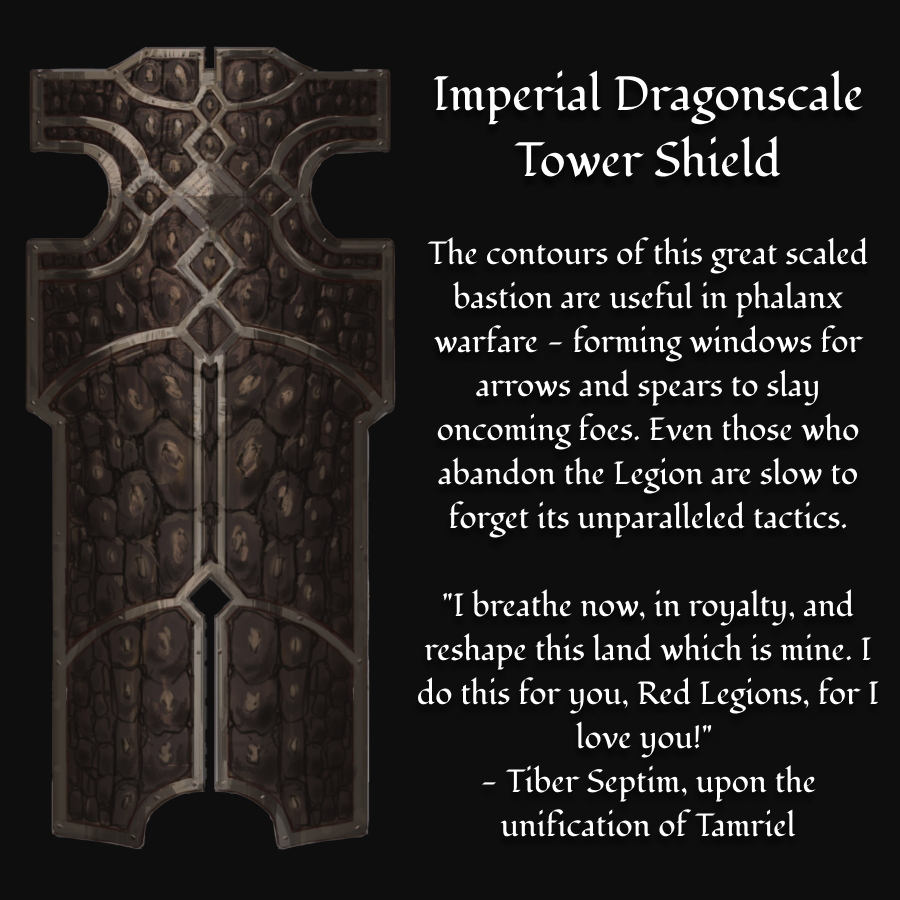 Helm - Medium Armor
Not Enchanted
This helm wreathes your face in a crown of blackened steel and burnished scales. The God of Time, venerated since before the fall of Atmora, roosts in stygian glory on its crest.

In the beginning, the notes were discordant, uncertain, lacking sequence. Then Akatosh birthed himself from the Gray Maybe, coaxed harmony from cacophony, and Time began.
Cuirass - Medium Armor
Not Enchanted
A suit of armor crafted in the half-scaled style of the ancient Tsaesci. The snake-folk venerated the undying dragons, and once sought to mantle them.

The most fervent Imperial Cultists preserve an Akaviri belief that the blood of Dragonborn rulers contains a map of eternity - an atlas of Time itself.
Gauntlets - Medium Armor
Not Enchanted
Layers of burnished scale guard your forearms like rows of fangs. The straps securing them are a haphazard assortment of cloth and leather from beyond Cyrodill, as though replaced piecemeal by their former owners.

In legends, dragons pillage defeated kin - donning their foe's scales to replace those lost in the battle, and consuming the fallen's very essence to enhance their power.
Boots - Medium Armor
Not Enchanted
Open sandals and venom-elk leather straps clasp the jagged hide of a Nibenese river dragon to your shins. The scales honor Merethic warriors, said to craft armor from the holy beasts.

At time's dawn, the wandering spirits of humanity came to Atmora's frigid shores and met with an empire of dragons. Eons later, Atmora's temples stand skeletal against the gray skies, and its soaring stone cities lie crowned by coral beneath the Sea of Ghosts.
Pauldron (R) - Medium Armor
Not Enchanted
This steel and bone pauldron perches atop your shoulder, extending downward with a hooked claw. The armor's organic elements express a savagery infrequently found among the disciplined soldiers of the Legion.

Legionnaires stationed far from the Imperial core sometimes turn to banditry. The boldest of these marauders craft armor embodying the beasts whose divine terror is engraved in song.
Pauldron (L) - Medium Armor
Not Enchanted
This steel and bone pauldron sits above a dull bronze band. The tarnished symbols of company and rank mock the Red Legion's severity, but some exiles cling to them in hope of redemption.

The Children of Akatosh are aberrations upon the world - divine interference in a mighty engine of precise clockwork. Whether or not they truly lived, few would call for their return.
Greaves - Medium Armor
Not Enchanted
Overlapping ridges of veil-fox bone and wamasu hide compose these versatile greaves. It is a testament to Colovia's masterful blacksmiths that the scales so closely resemble those of the undying dragons.

Disputed sources as late as the Third Era assert that the dragons are more than myth. Such believers claim they were the psychopomps who led Reman's Mananauts to the outer realms.
Buckler Shield - Medium Armor
Not Enchanted
A barbaric steel spike graces this square shield of river dragon hide. Its handle is wrapped in crimson cloth - an acknowledgment of old loyalties, or perhaps simply the residue of its late bearer.

"What is the weight of one soul against the eternal measure of an empire?"
- Zurin Arctus, upon his death before the Mantella
Standard Shield - Medium Armor
Not Enchanted
This shield of layered scale and spiderwebbed steel protects you from blade and flame. In Colovian tradition, its inner fringe is inscribed with prayers of strength and courage from each of its bearers.

"I return to the Sky's Rim, where my voice is the trembling of the earth and the shifting of storms."
- Ysmir Wulfharth, upon his second death at Red Mountain
Tower Shield - Medium Armor
Not Enchanted
The contours of this great scaled bastion are useful in phalanx warfare - forming windows for arrows and spears to slay oncoming foes. Even those who abandon the Legion are slow to forget its unparalleled tactics.

"I breathe now, in royalty, and reshape this land which is mine. I do this for you, Red Legions, for I love you!"
- Tiber Septim, upon the unification of Tamriel