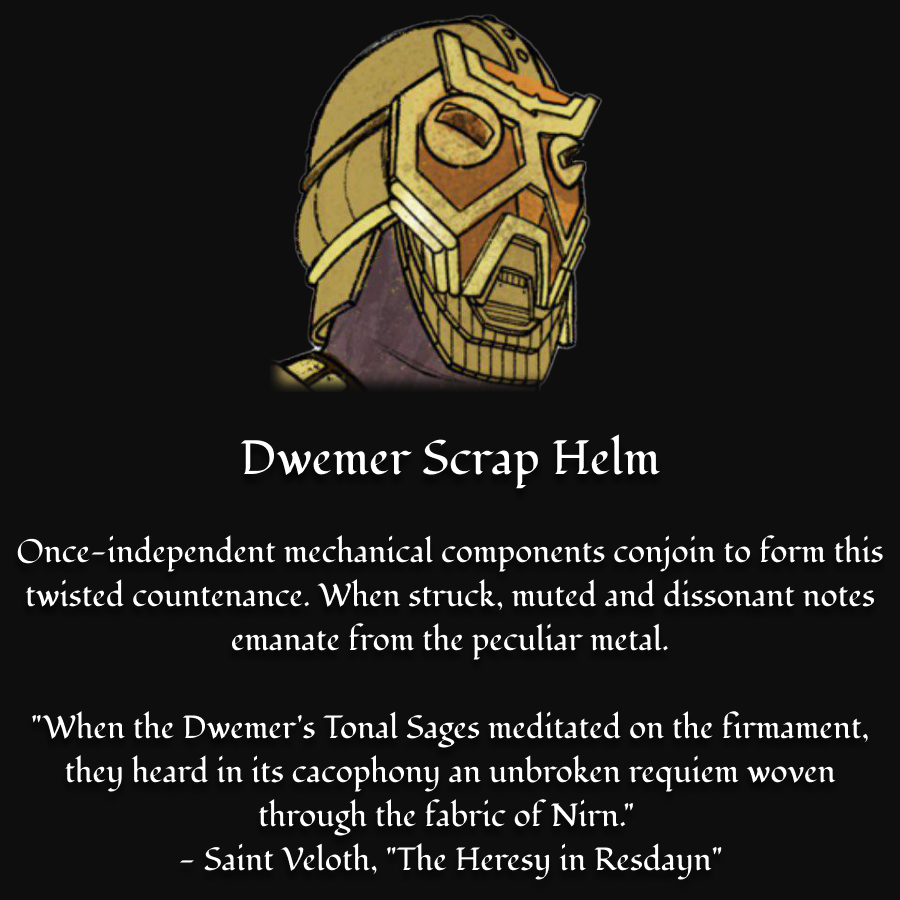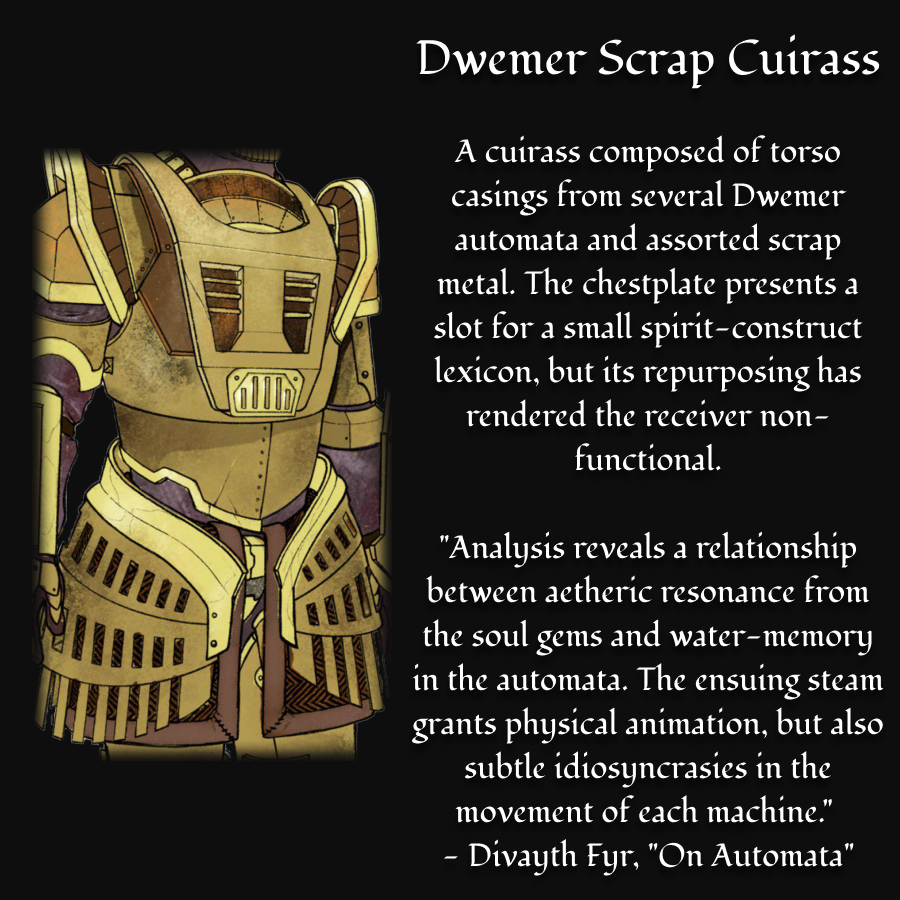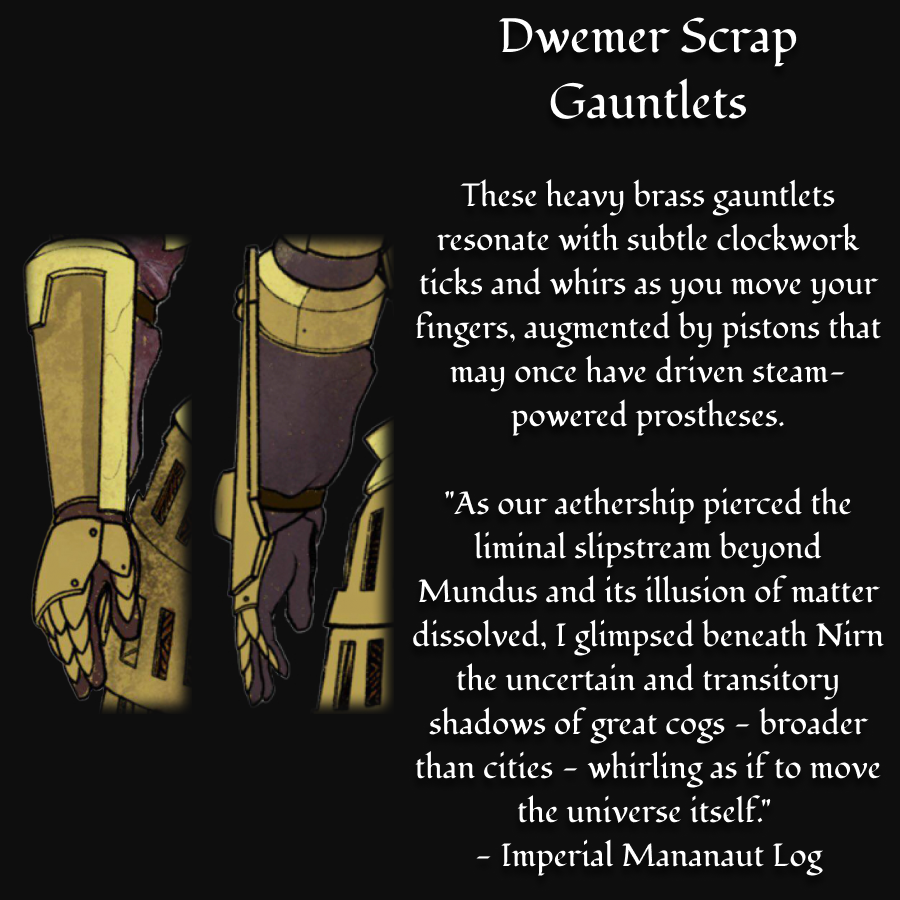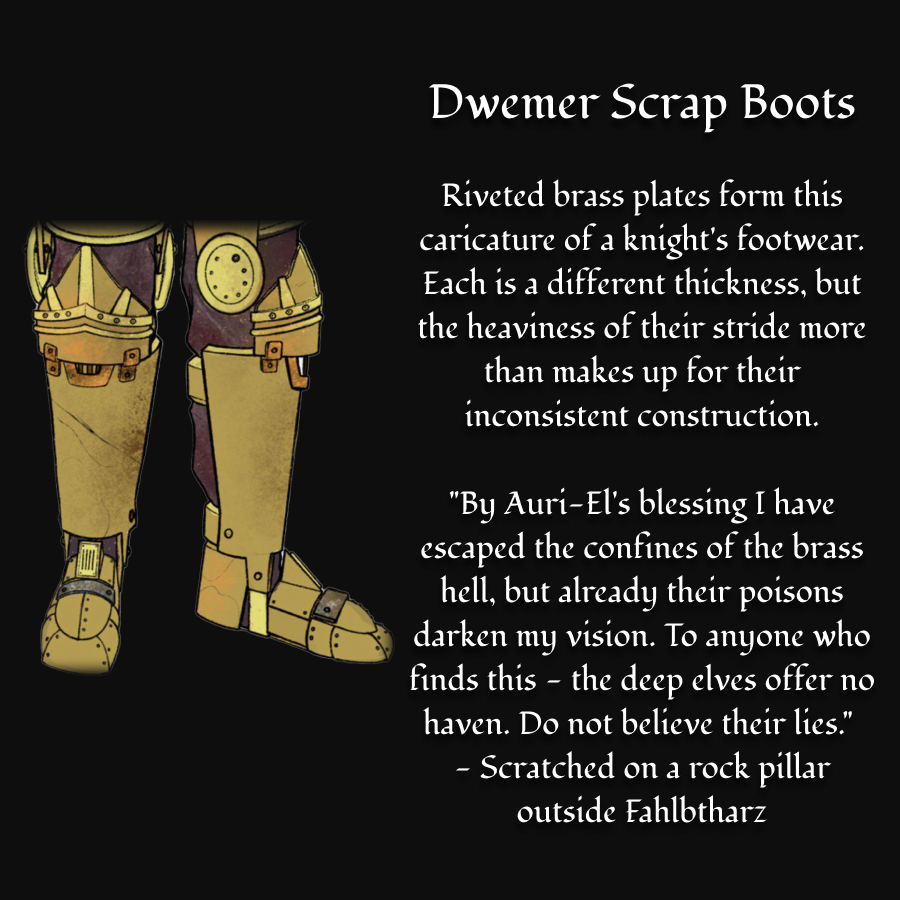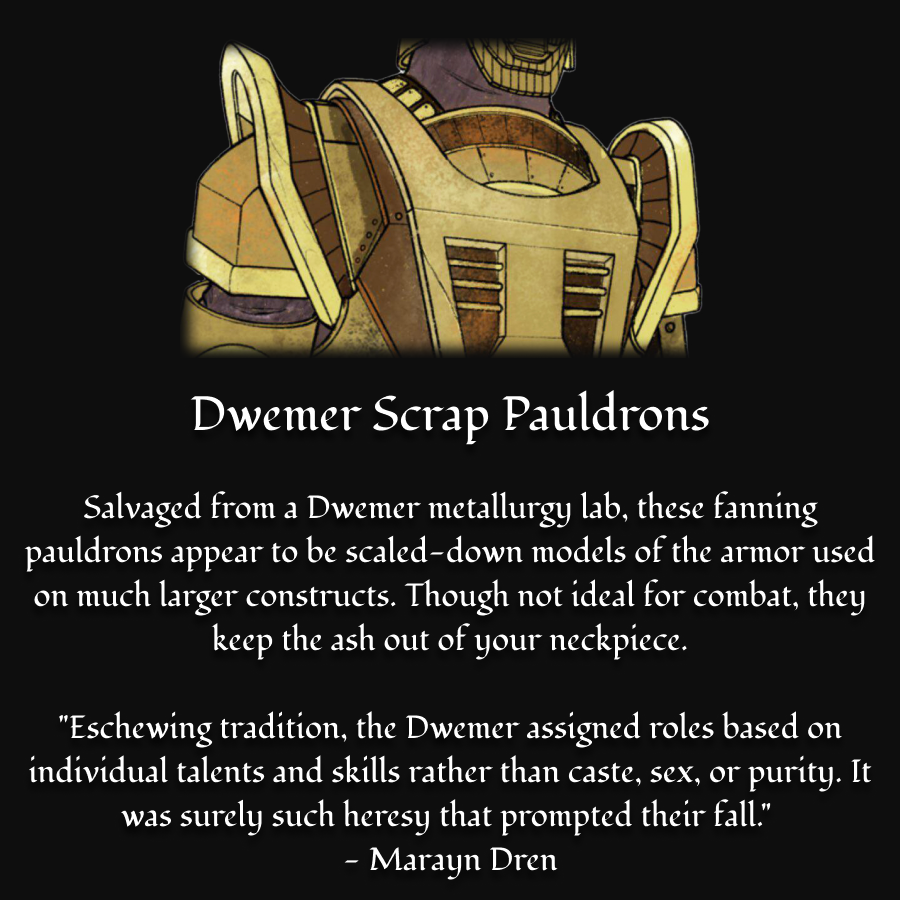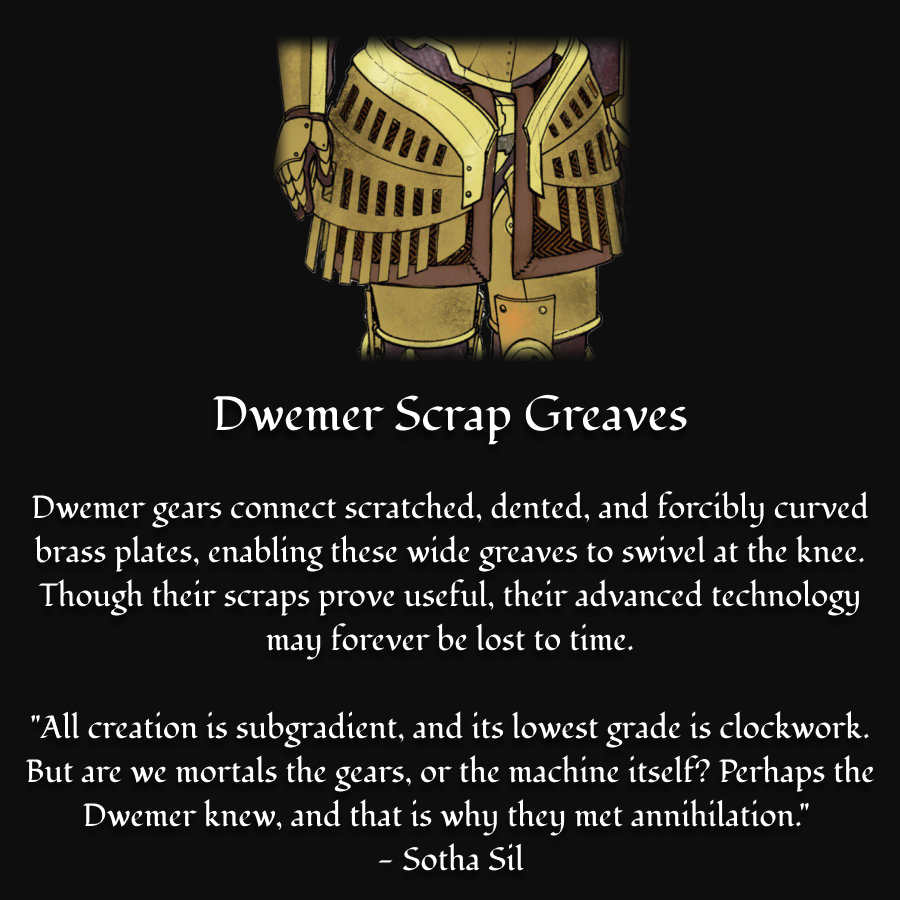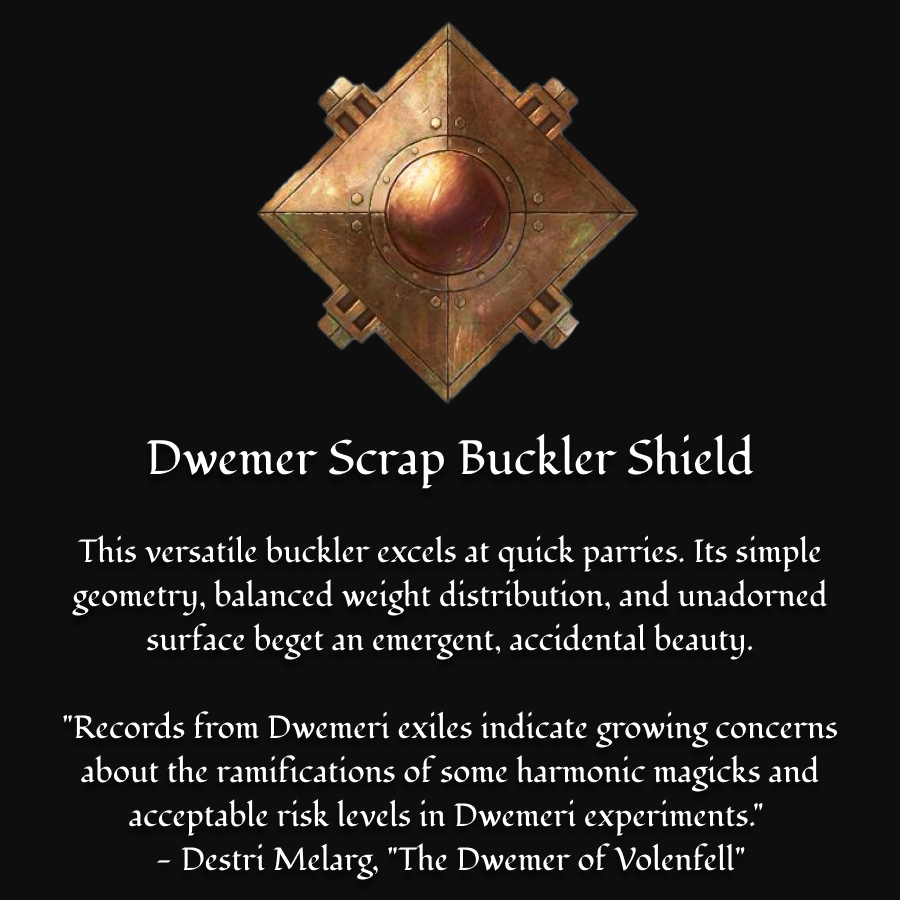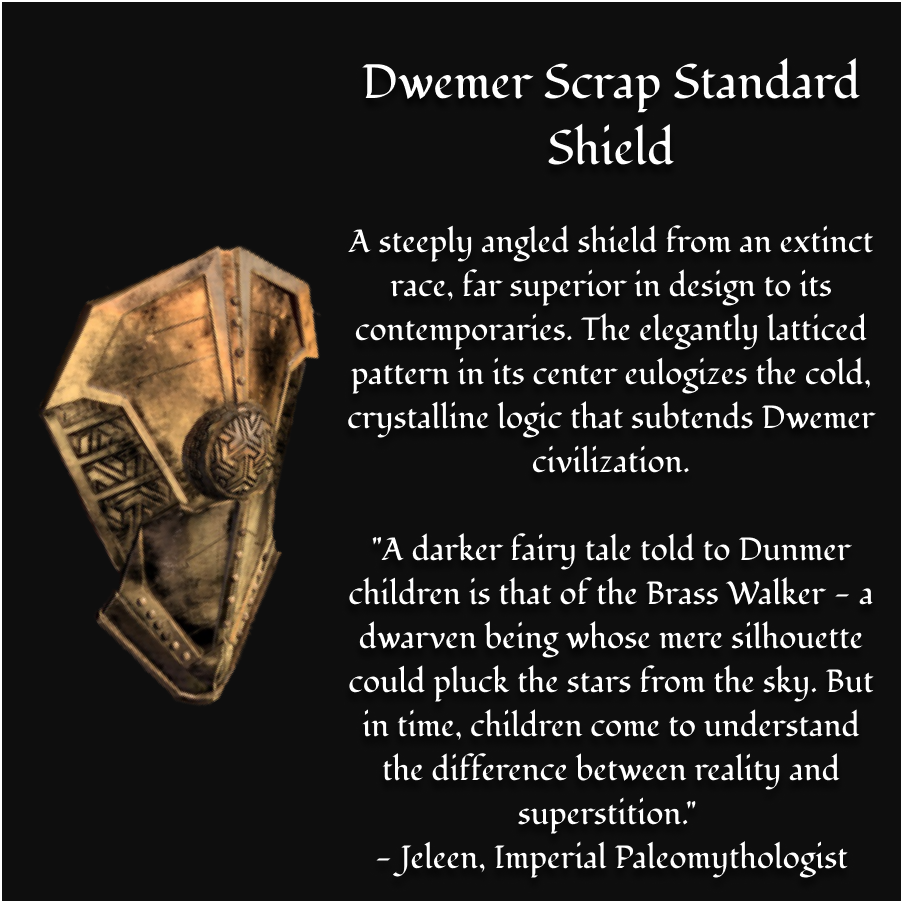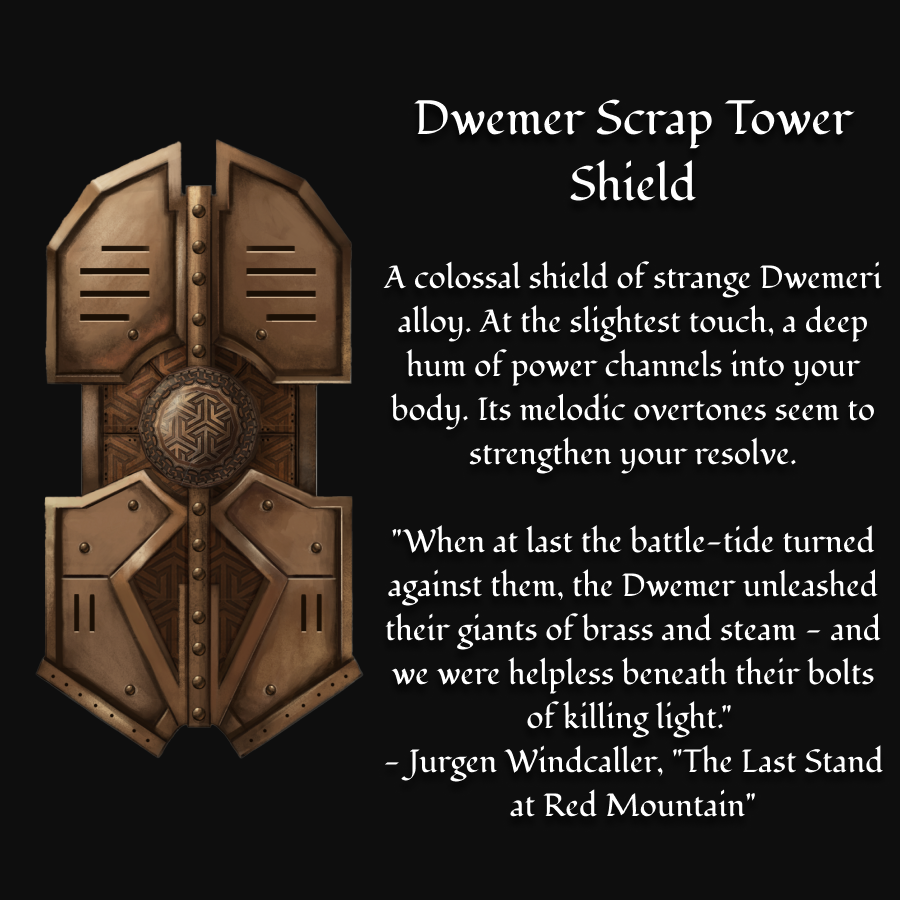 Helm - Heavy Armor
Not Enchanted
Once-independent mechanical components conjoin to form this twisted countenance. When struck, muted and dissonant notes emanate from the peculiar metal.

"When the Dwemer's Tonal Sages meditated on the firmament, they heard in its cacophony an unbroken requiem woven through the fabric of Nirn."
- Saint Veloth, "The Heresy in Resdayn"
Cuirass - Heavy Armor
Not Enchanted
A cuirass composed of torso casings from several Dwemer automata and assorted scrap metal. The chestplate presents a slot for a small spirit-construct lexicon, but its repurposing has rendered the receiver non-functional.

"Analysis reveals a relationship between aetheric resonance from the soul gems and water-memory in the automata. The ensuing steam grants physical animation, but also subtle idiosyncrasies in the movement of each machine."
- Divayth Fyr, "On Automata"
Gauntlets - Heavy Armor
Not Enchanted
These heavy brass gauntlets resonate with subtle clockwork ticks and whirs as you move your fingers, augmented by pistons that may once have driven steam-powered prostheses.

"As our aethership pierced the liminal slipstream beyond Mundus and its illusion of matter dissolved, I glimpsed beneath Nirn the uncertain and transitory shadows of great cogs - broader than cities - whirling as if to move the universe itself."
- Imperial Mananaut Log
Boots - Heavy Armor
Not Enchanted
Riveted brass plates form this caricature of a knight's footwear. Each is a different thickness, but the heaviness of their stride more than makes up for their inconsistent construction.

"By Auri-El's blessing I have escaped the confines of the brass hell, but already their poisons darken my vision. To anyone who finds this - the deep elves offer no haven. Do not believe their lies."
- Scratched on a rock pillar outside Fahlbtharz
Pauldrons - Heavy Armor
Not Enchanted
Salvaged from a Dwemer metallurgy lab, these fanning pauldrons appear to be scaled-down models of the armor used on much larger constructs. Though not ideal for combat, they keep the ash out of your neckpiece.

"Eschewing tradition, the Dwemer assigned roles based on individual talents and skills rather than caste, sex, or purity. It was surely such heresy that prompted their fall."
- Marayn Dren
Greaves - Heavy Armor
Not Enchanted
Dwemer gears connect scratched, dented, and forcibly curved brass plates, enabling these wide greaves to swivel at the knee. Though their scraps prove useful, their advanced technology may forever be lost to time.

"All creation is subgradient, and its lowest grade is clockwork. But are we mortals the gears, or the machine itself? Perhaps the Dwemer knew, and that is why they met annihilation."
- Sotha Sil
Buckler Shield - Heavy Armor
Not Enchanted
This versatile buckler excels at quick parries. Its simple geometry, balanced weight distribution, and unadorned surface beget an emergent, accidental beauty.

"Records from Dwemeri exiles indicate growing concerns about the ramifications of some harmonic magicks and acceptable risk levels in Dwemeri experiments."
- Destri Melarg, "The Dwemer of Volenfell"
Standard Shield - Heavy Armor
Not Enchanted
A steeply angled shield from an extinct race, far superior in design to its contemporaries. The elegantly latticed pattern in its center eulogizes the cold, crystalline logic that subtends Dwemer civilization.

"A darker fairy tale told to Dunmer children is that of the Brass Walker - a dwarven being whose mere silhouette could pluck the stars from the sky. But in time, children come to understand the difference between reality and superstition."
- Jeleen, Imperial Paleomythologist
Tower Shield - Heavy Armor
Not Enchanted
A colossal shield of strange Dwemeri alloy. At the slightest touch, a deep hum of power channels into your body. Its melodic overtones seem to strengthen your resolve.

"When at last the battle-tide turned against them, the Dwemer unleashed their giants of brass and steam - and we were helpless beneath their bolts of killing light."
- Jurgen Windcaller, "The Last Stand at Red Mountain"