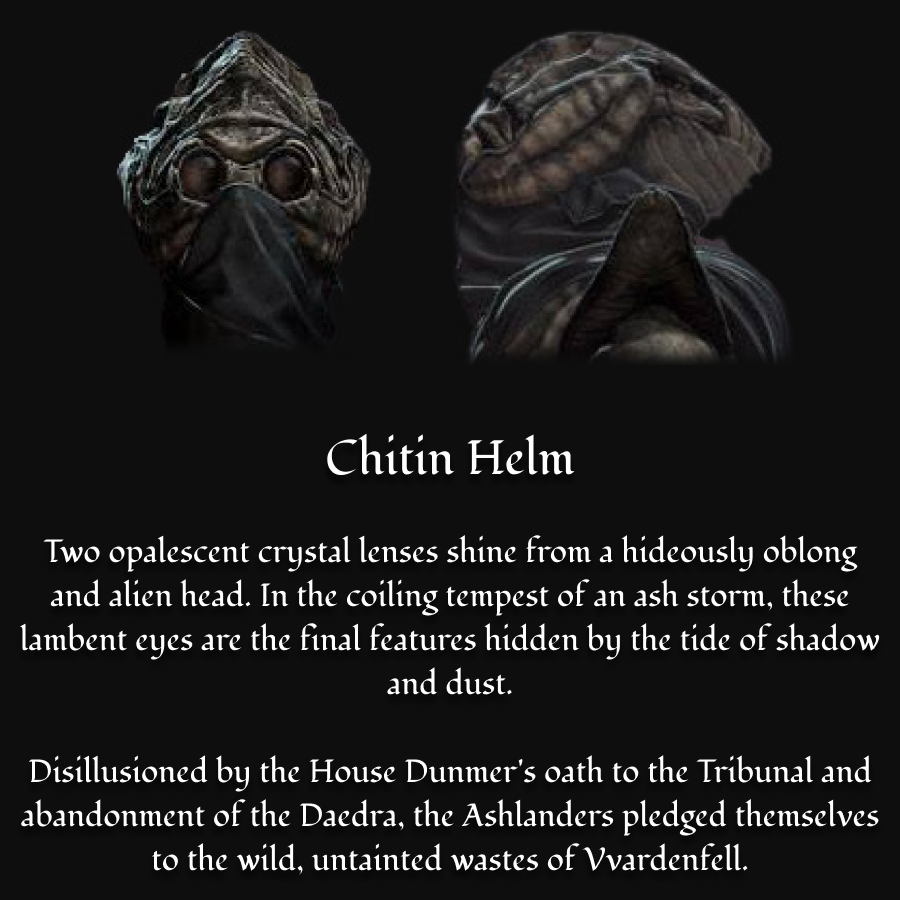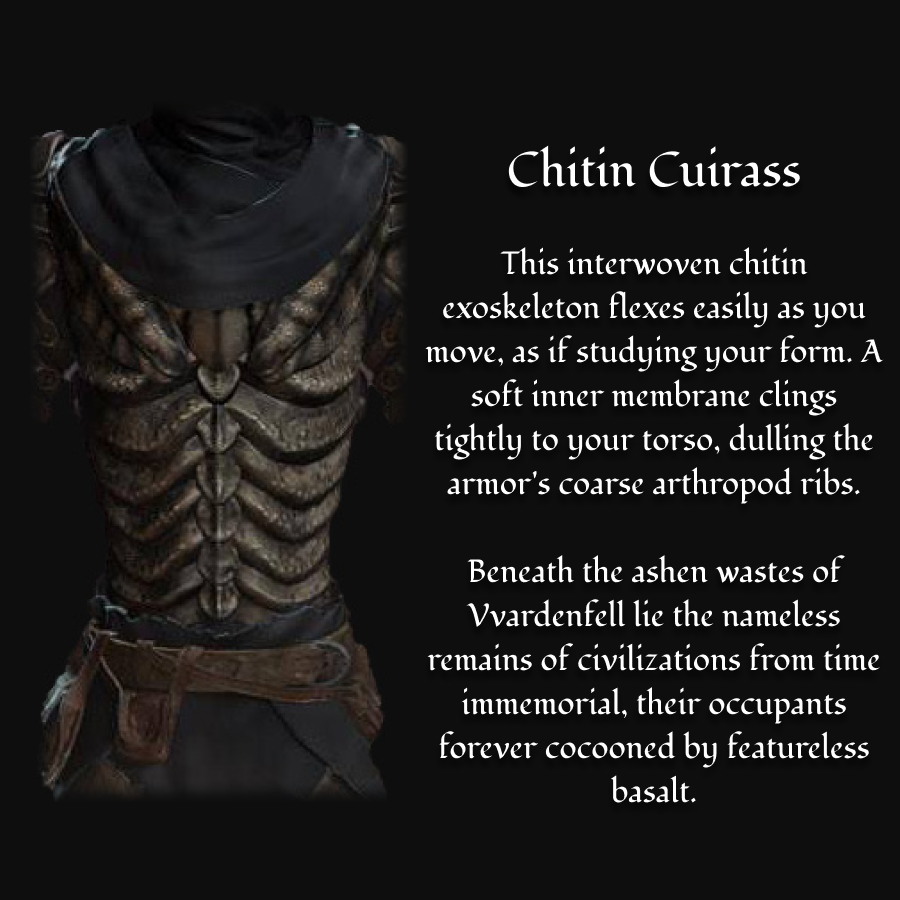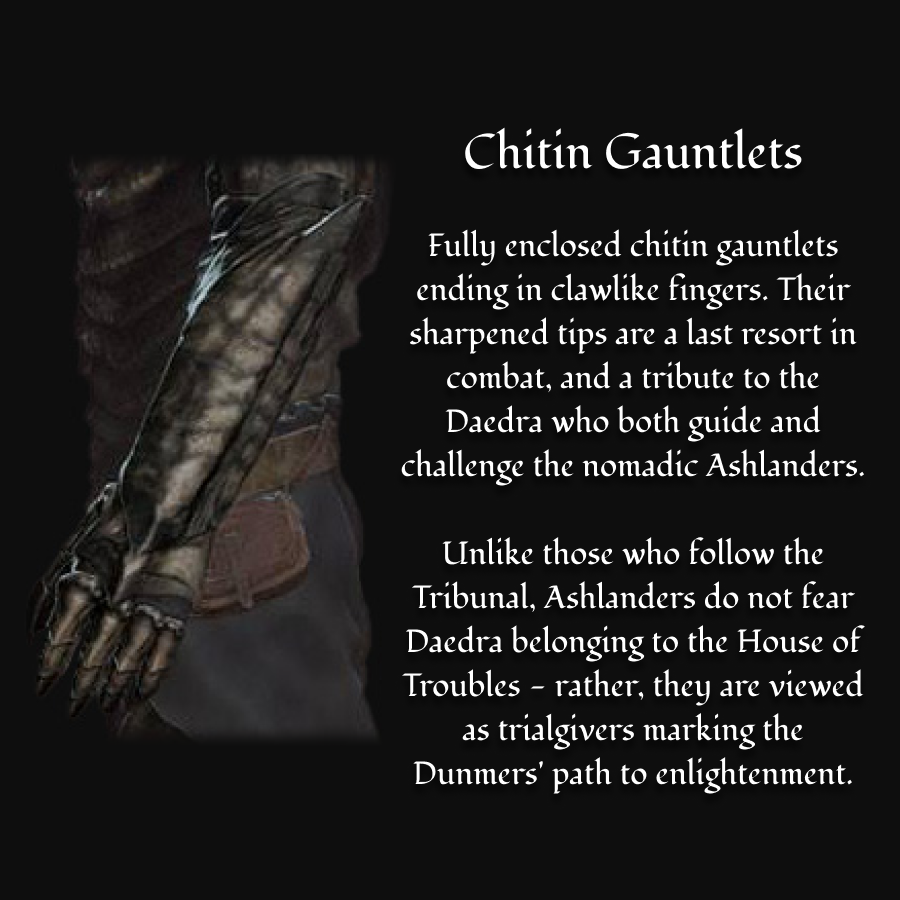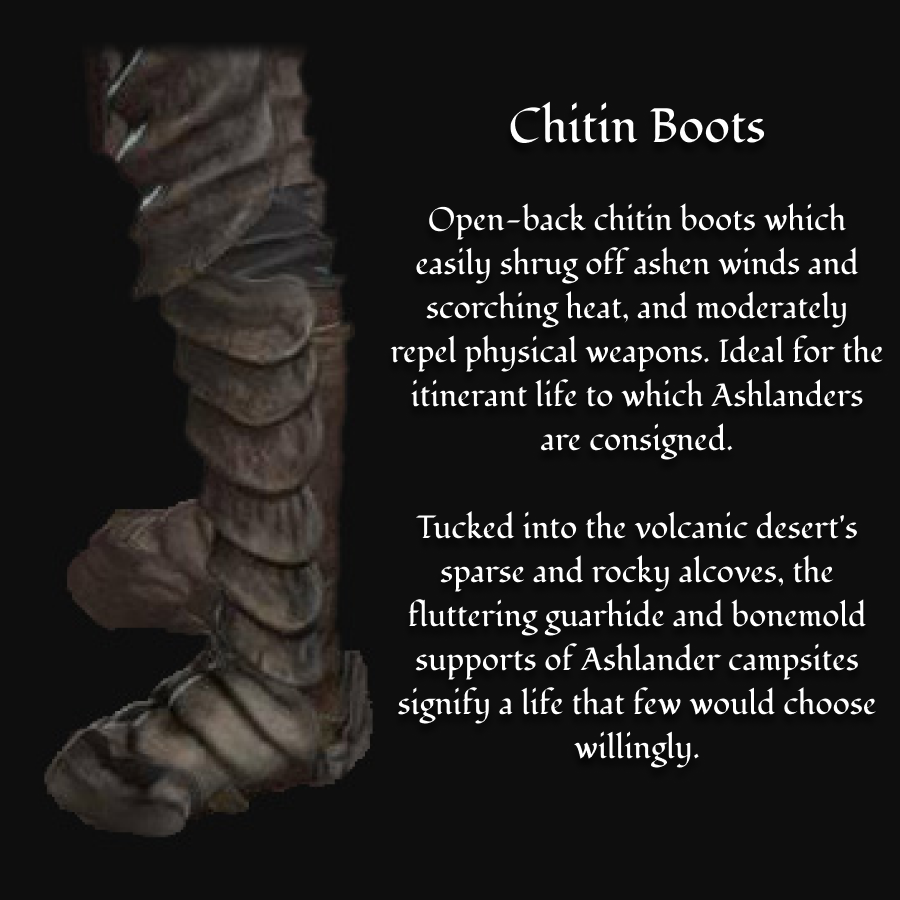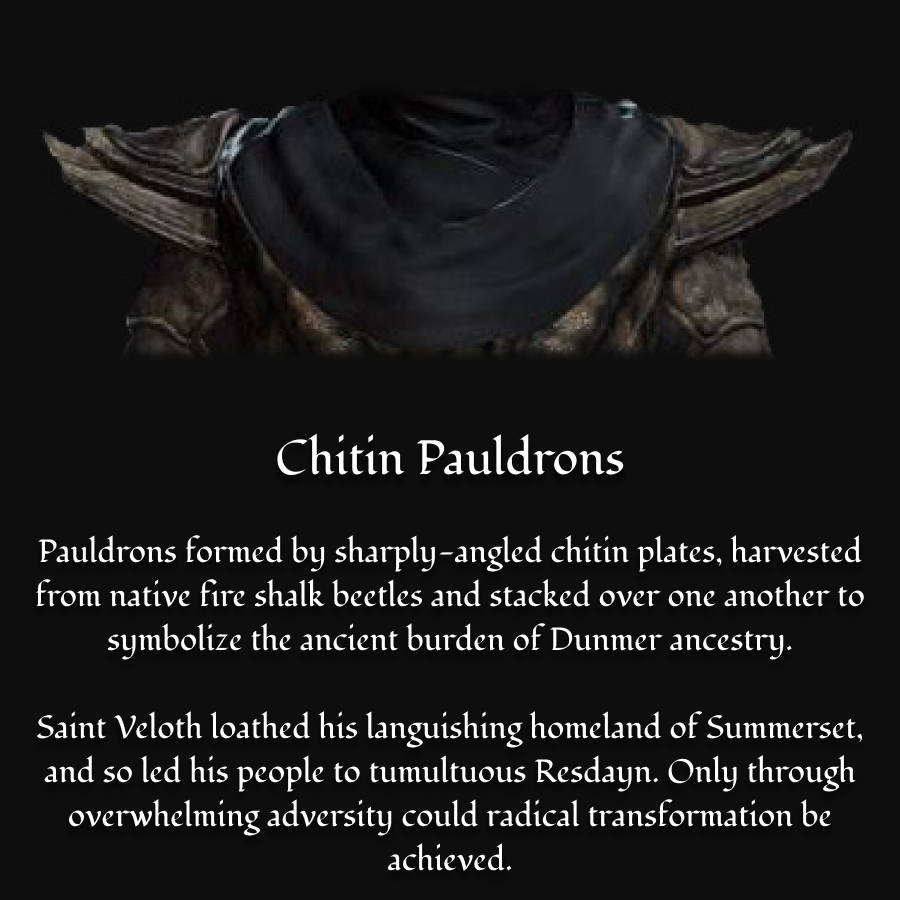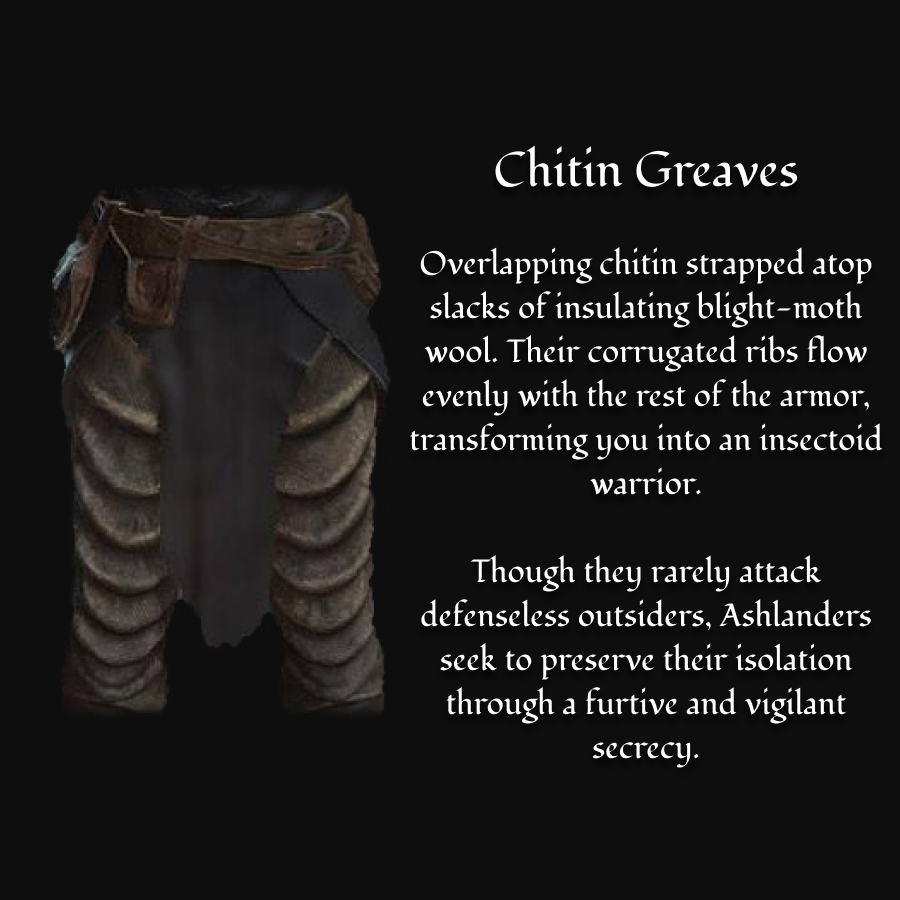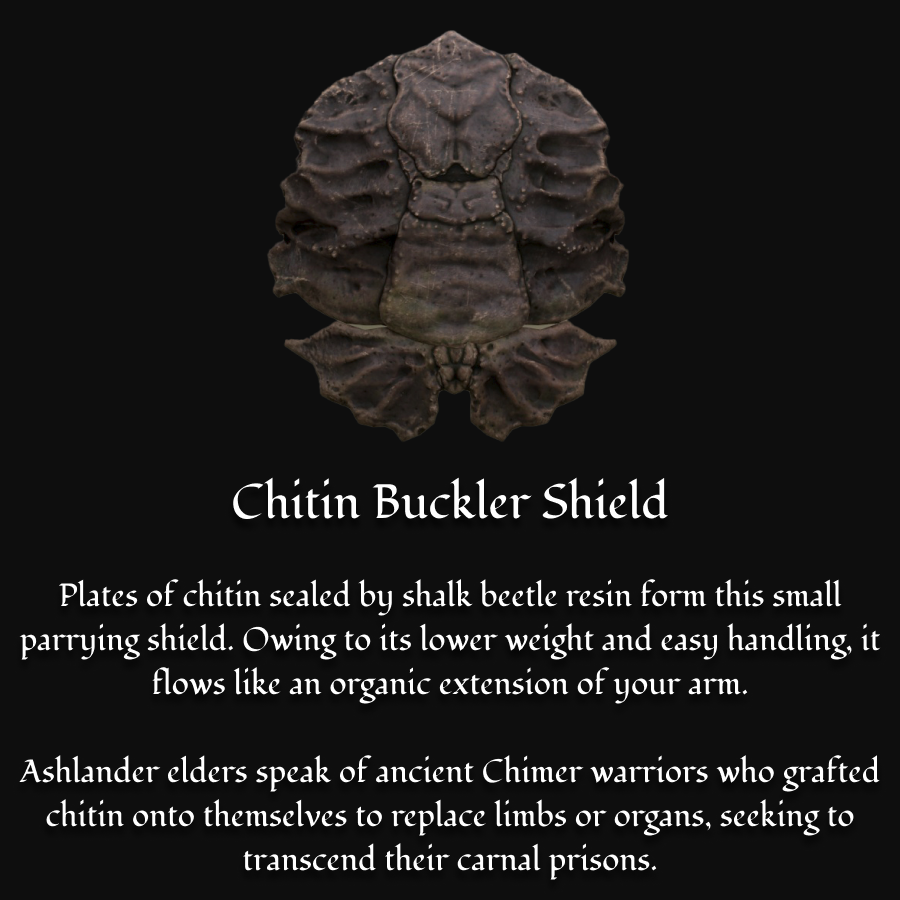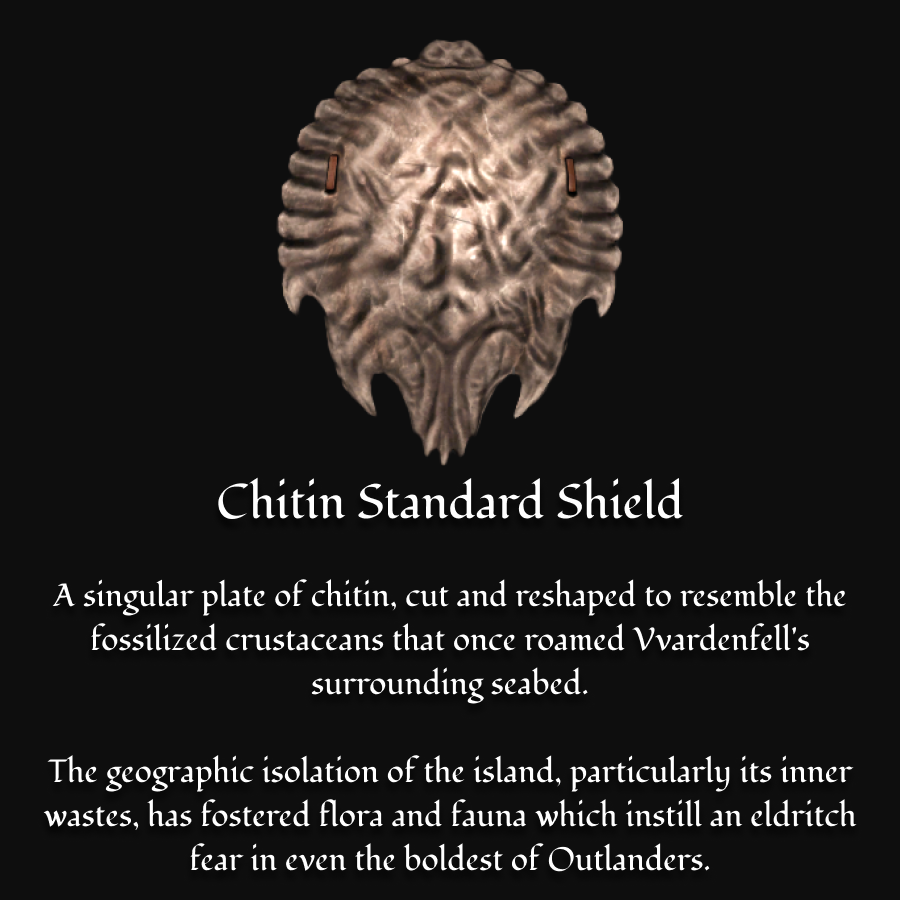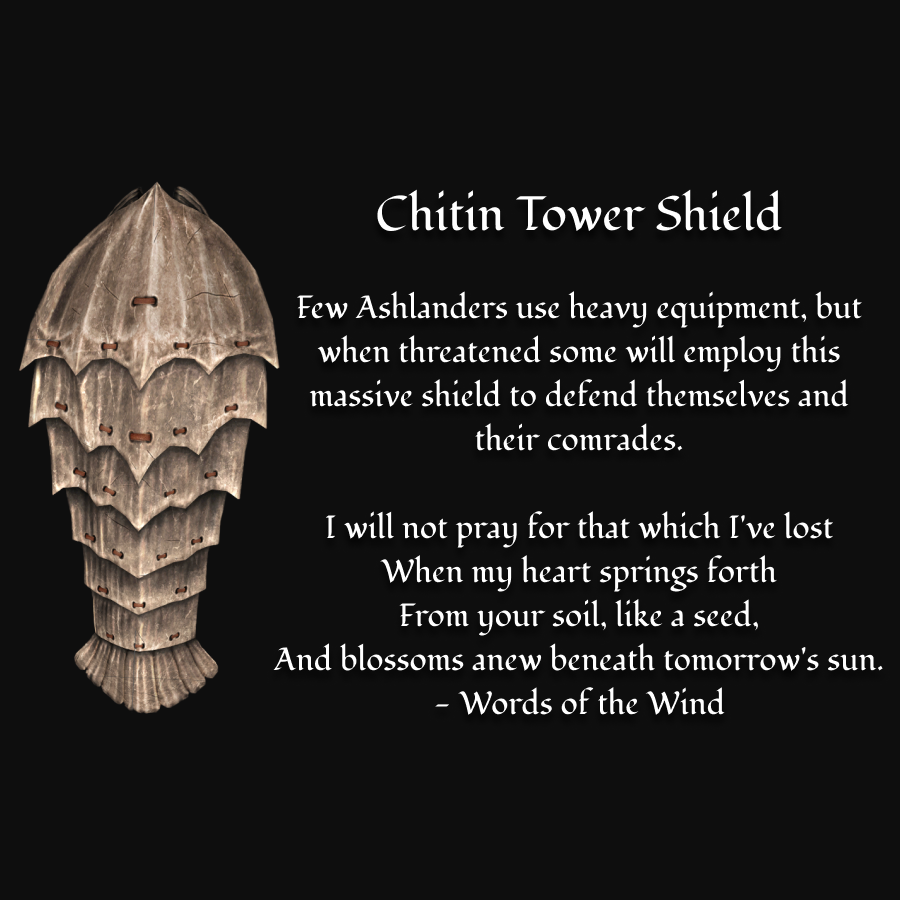 Helm - Light Armor
Not Enchanted
Two opalescent crystal lenses shine from a hideously oblong and alien head. In the coiling tempest of an ash storm, these lambent eyes are the final features hidden by the tide of shadow and dust.

Disillusioned by the House Dunmer's oath to the Tribunal and abandonment of the Daedra, the Ashlanders pledged themselves to the wild, untainted wastes of Vvardenfell.
Cuirass - Light Armor
Not Enchanted
This interwoven chitin exoskeleton flexes easily as you move, as if studying your form. A soft inner membrane clings tightly to your torso, dulling the armor's coarse arthropod ribs.

Beneath the ashen wastes of Vvardenfell lie the nameless remains of civilizations from time immemorial, their occupants forever cocooned by featureless basalt.
Gauntlets - Light Armor
Not Enchanted
Fully enclosed chitin gauntlets ending in clawed fingers. Their sharpened tips are a last resort in combat, and a tribute to the Daedra who both guide and challenge the nomadic Ashlanders.

Unlike those who follow the Tribunal, Ashlanders do not fear Daedra belonging to the House of Troubles - rather, they are viewed as trialgivers marking the Dunmers' path to enlightenment.
Boots - Light Armor
Not Enchanted
Open-back chitin boots which easily shrug off ashen winds and scorching heat, and moderately repel physical weapons. Ideal for the itinerant life to which Ashlanders are consigned.

Tucked into the volcanic desert's sparse and rocky alcoves, the fluttering guarhide and bonemold supports of Ashlander campsites signify a life that few would choose willingly.
Pauldron - Light Armor
Not Enchanted
Pauldrons formed by sharply-angled chitin plates, harvested from native fire shalk beetles and stacked over one another to symbolize the ancient burden of Dunmer ancestry.

Saint Veloth loathed his languishing homeland of Summerset, and so led his people to tumultuous Resdayn. Only through overwhelming adversity could radical transformation be achieved.
Greaves - Light Armor
Not Enchanted
Overlapping chitin strapped atop slacks of insulating blight-moth wool. Their corrugated ribs flow evenly with the rest of the armor, transforming you into an insectoid warrior.

Though they rarely attack defenseless outsiders, Ashlanders seek to preserve their isolation through a furtive and vigilant secrecy.
Buckler Shield - Light Armor
Not Enchanted
Plates of chitin sealed by shalk beetle resin form this small parrying shield. Owing to its lower weight and easy handling, it flows like an organic extension of your arm.

Ashlander elders speak of ancient Chimer warriors who grafted chitin onto themselves to replace limbs or organs, seeking to transcend their carnal prisons.
Standard Shield - Light Armor
Not Enchanted
A singular plate of chitin, cut and reshaped to resemble the fossilized crustaceans that once roamed Vvardenfell's surrounding seabed.

The geographic isolation of the island, particularly its inner wastes, has fostered flora and fauna which instill an eldritch fear in even the boldest of Outlanders.
Tower Shield - Light Armor
Not Enchanted
Few Ashlanders use heavy equipment, but when threatened some will employ this massive shield to defend themselves and their comrades.

I will not pray for that which I've lost
When my heart springs forth
From your soil, like a seed,
And blossoms anew beneath tomorrow's sun.
- Words of the Wind